Landscaping SEO Services + Free Website for Life* (As Long As You Want to Keep It)
Being found in search engines with landscaping design, lawn care, and garden maintenance keywords is critical for any landscaping business. More presence in the map pack or top three search results means more valuable leads for your business. If your business isn't showing up, it's time to optimize your website and local digital properties for search engines. Proper landscaping SEO optimization is essential to achieving the desired results.
What is Landscaping SEO?
Landscaping SEO refers to the process of optimizing your landscaping business's website and online presence to rank higher in search engine results. This optimization aims to increase organic traffic, generate more leads, and ultimately boost sales for your landscaping business.
Q: How does Landscaping SEO help my business?
A: By implementing effective Landscaping SEO strategies, your business can achieve better visibility in search results, driving more potential customers to your website and ultimately increasing your revenue.
Why Choose Us?
Experience: Our CEO, Mike, has been working with home service clients since 1996, providing us with extensive knowledge and experience in the industry. Over the years, we have adapted to the ever-changing landscape of digital marketing, ensuring that our strategies are up-to-date and effective in generating results for your business. Choosing us means you are benefiting from decades of expertise in the field.
Dedicated to Results and Passionate: At Contractor 20/20, we are not only dedicated to producing results for our clients but are also deeply passionate about what we do. Our team is committed to understanding your unique business needs and implementing tailored strategies that yield tangible results. We genuinely care about your business's success and work tirelessly to help you achieve your goals.
Transparent: We believe in maintaining transparency with our clients, keeping you informed and involved throughout the entire process. Our team will provide regular updates and reports, ensuring you have a clear understanding of the work being done and the results it is generating. We believe that open communication and honesty are key to building a strong, long-lasting partnership.
Family-Owned: As a family-owned business, we take pride in the personal touch we bring to our client relationships. We treat your business as if it were our own and ensure that we provide exceptional service, maintaining a strong connection with you throughout our partnership. Our clients are not just numbers to us – they are a part of our extended family.
Not Just SEO: While we excel in providing top-notch SEO services, Contractor 20/20 is also a complete marketing solution provider for industry clients. Our services range from direct mail to social media marketing, ensuring that your business has a comprehensive and cohesive marketing strategy. By offering a one-stop solution for all your marketing needs, we help your business grow and thrive in the competitive landscape.
We offer Free Stunning Websites for Our Clients To Start SEO
We understand that developing a website can be a significant investment, especially for new businesses. That's why we offer a free, stunning website to all our clients who sign up for our SEO services, removing a significant barrier for business owners.
The difference between Contractor 20/20 and other companies that offer free websites is that, with us, you can take your site anywhere if you decide to cancel. Many other companies use proprietary systems, locking you in even if their SEO services aren't benefiting your business.
We're here to rescue you from such situations. Our free websites are truly yours – you can take them anywhere, host them on any platform, and continue running your business as if nothing happened.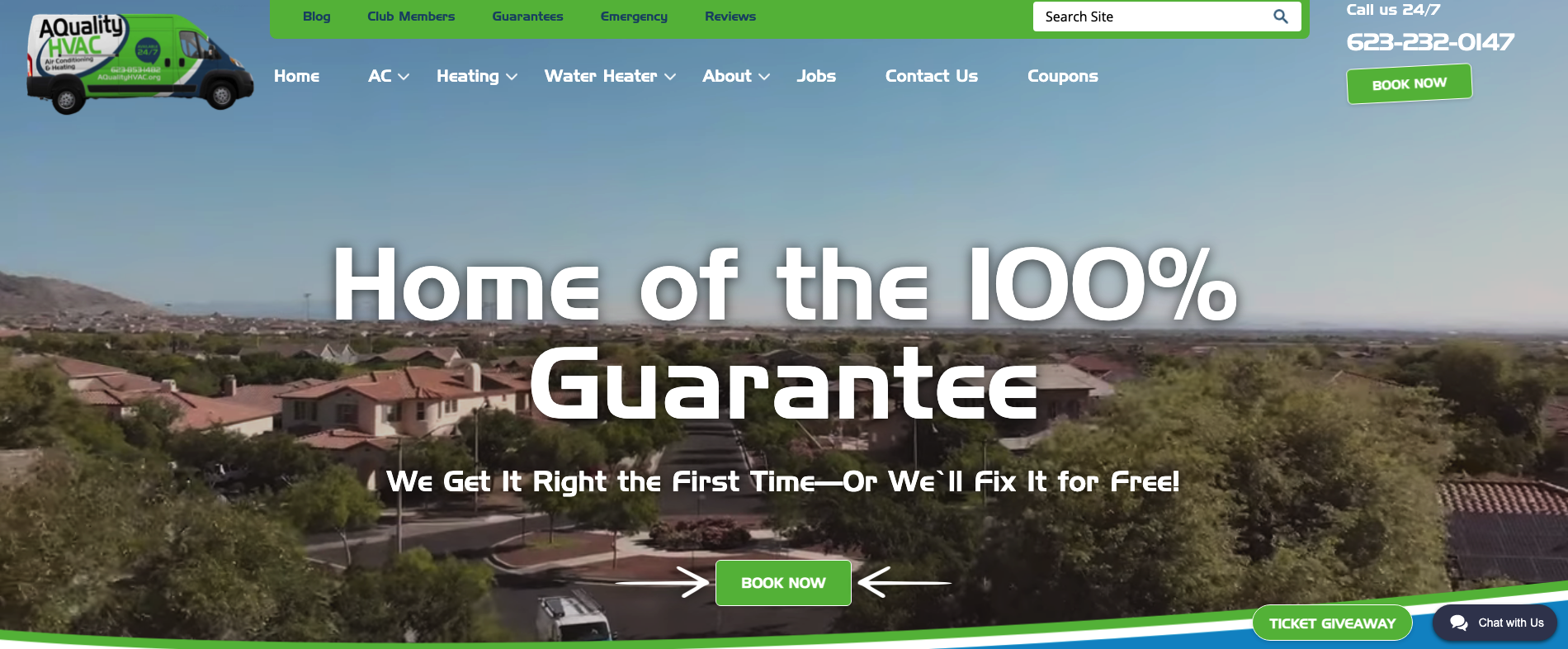 Local Search Ranking Factors of 2023 Which Applies for Your Landscaping Business As well
There are three main local search ranking factors: proximity, prominence, and relevance. These factors are distributed across various areas of your business, as listed below.
These are the 2023 Landscaping local search ranking signals:
Local Pack/Maps Ranking Factors:
These are the ranking factors for ranking in the Local Pack in Google SERP and Google Maps.
Google Business Profile: 32%
On-page SEO: 19%
Online Reviews: 16%
Backlink: 11%
Behavioral: 8%
Citation: 7%
Personalization: 6%
Organic Local Ranking Factors:
These are ranking factors for ranking in Google for local queries (excluding local pack/maps).
On-page SEO: 36%
Backlink: 26%
Behavioral: 9%
Google Business Profile: 9%
Personalization: 7%
Citation: 7%
Reviews: 6%
Here is the Detailed Guide to Landscaping SEO
Now that you know the local search ranking factors, let's dive into the guide to Landscaping SEO.
1st Step – Website+Digital Presence Audit: The first step in a successful landscaping SEO campaign is conducting a thorough audit of your existing website and digital presence. This involves analyzing your website's structure, content, and performance, as well as evaluating your Google Business Profile and checking the consistency of your NAP (Name, Address, Phone) across various online citations. Identifying areas for improvement helps us develop a tailored strategy to enhance your online visibility and drive more leads to your business.
2nd Step – Google Business Profile Optimization: Optimizing your Google Business Profile (GBP) is essential for increasing your visibility in local search results. This includes ensuring your NAP information is correct and consistent, adding relevant services, creating regular GMB/GBP posts, and crafting an engaging business description. A well-optimized GBP helps you stand out from the competition and attract more potential customers.
3rd Step – Keyword Research: Identifying the right keywords for your landscaping business is crucial for driving targeted traffic to your website. We've conducted comprehensive keyword research to determine the most relevant and high-performing keywords in your industry. Here are 50 top landscaping keywords to consider:
landscaping services
landscape design
lawn care
landscape maintenance
garden design
landscape construction
hardscaping
lawn mowing
irrigation systems
landscape lighting
lawn fertilization
weed control
tree services
lawn aeration
landscape architect
sod installation
landscape renovation
landscape edging
outdoor living spaces
retaining walls
garden installation
water features
patios and walkways
snow removal
pergolas and gazebos
garden maintenance
landscape consultation
commercial landscaping
residential landscaping
lawn treatments
mulching services
landscape grading
shrub pruning
artificial turf installation
landscape drainage
garden beds
outdoor kitchens
fire pits and fireplaces
lawn seeding
landscape planning
lawn repair
tree planting
garden cleanup
seasonal landscaping
drought-tolerant landscaping
eco-friendly landscaping
xeriscaping
erosion control
landscape management
landscape supplies
These keywords will be strategically implemented and planned throughout your website to improve its visibility and relevance in search results.
4th Step – Develop the Website: A well-designed, mobile-friendly website is critical for engaging visitors and converting them into customers. We'll develop a stunning, fast-loading website tailored to your landscaping business, ensuring it's optimized for conversions and delivers an exceptional user experience.
5th Step – Content Optimization/Marketing: High-quality, informative content is essential for showcasing your expertise and attracting potential clients. We'll create and optimize content for your website that aligns with your target keywords and provides value to your audience. Content marketing is a powerful way to drive organic traffic and position your business as an industry leader.
6th Step – Technical SEO/On-page SEO: Optimizing technical and on-page elements of your website, such as title tags, meta descriptions, header tags, schema markup, crawlability, and accessibility, is crucial for improving your search engine rankings. This optimization contributes to local pack/maps and local search ranking signals, helping your landscaping business get found by more potential customers.
7th Step – Start the Review Generation: Online reviews play a significant role in local search rankings and influence potential customers' decisions. Encouraging satisfied clients to leave reviews on platforms such as Google, Yelp, and Facebook helps improve your online reputation and boosts your visibility in local search results. The percentage of ranking signal reviews contribute to local pack/maps and local search is a testament to their importance in your landscaping business's online success.
8th Step – Digital Presence Management AKA Citations: Building and managing citations is essential for improving your landscaping business's local SEO. Listing your business on reputable directories and platforms like Bing Places, Yelp, and Yellow Pages ensures your NAP information is consistent and accurate across the web, strengthening your online presence and credibility.
9th Step – Start Backlink Building: Backlinks are a crucial component of local SEO and contribute to your website's authority and visibility in search results. By acquiring high-quality, relevant backlinks from authoritative websites, you can improve your landscaping business's ranking signals for local pack/maps and local search, driving more targeted traffic to your website.
10th Step – Tracking & Reporting: Regular tracking and reporting are vital for measuring the success of your landscaping SEO efforts and making data-driven decisions. By monitoring key performance indicators (KPIs) and providing detailed reports, you can assess the impact of your SEO campaign and adjust your strategy as needed to maximize your return on investment.
These steps provide a comprehensive starting point for a successful landscaping SEO campaign. Keep in mind that some of these steps, such as content marketing, backlink building, content optimization, and review generation, are ongoing processes that require consistent effort to maintain and improve your landscaping business's online visibility and lead generation.
Cities We Serve (We Serve the Entire Country)
Detroit, MI
El Paso, TX
Memphis, TN
Baltimore, MD
Boston, MA
Seattle, WA
Washington, DC
Denver, CO
Milwaukee, WI
Portland, OR
Las Vegas, NV
Oklahoma City, OK
Albuquerque, NM
Nashville, TN
Tucson, AZ
Fresno, CA
Sacramento, CA
Long Beach, CA
Kansas City, MO
Mesa, AZ
Virginia Beach, VA
Atlanta, GA
Colorado Springs, CO
Omaha, NE
Raleigh, NC
Miami, FL
Cleveland, OH
Tulsa, OK
Oakland, CA
Minneapolis, MN
Wichita, KS
Honolulu, HI
Arlington, TX
Bakersfield, CA
New Orleans, LA
Anaheim, CA
Tampa, FL
Aurora, CO
Santa Ana, CA
Saint Louis, MO
Pittsburgh, PA
Corpus Christi, TX
Riverside, CA
Cincinnati, OH
Lexington, KY
Anchorage, AK
Stockton, CA
Toledo, OH
Saint Paul, MN
Newark, NJ
Greensboro, NC
Buffalo, NY
Plano, TX
Lincoln, NE
Henderson, NV
Fort Wayne, IN
Jersey City, NJ
Saint Petersburg, FL
Chula Vista, CA
Louisville, KY
Norfolk, VA
Orlando, FL
Chandler, AZ
Laredo, TX
Madison, WI
Winston-Salem, NC
Lubbock, TX
Baton Rouge, LA
Durham, NC
Garland, TX
Glendale, AZ
Lexington, KY
Reno, NV
Hialeah, FL
Paradise, NV
Chesapeake, VA
Scottsdale, AZ
North Las Vegas, NV
Irving, TX
Fremont, CA
Birmingham, AL
Rochester, NY
Want to Get a Free SEO Audit Done by a Real SEO Professional? Let's Talk
Start by reviewing the current SEO health of your landscaping business, and then decide which direction to take. Contact Mike or Emily at (607) 770-8933 to discuss your options.