Maid Service/House Cleaning SEO Services + Free Website for Life* (As Long As You Want to Keep It)
Achieving a prominent position in search engines for keywords related to maid services and house cleaning is crucial for any cleaning business. Greater visibility in the map pack or top three search results translates to more valuable leads for your business. If you're not currently ranking well, it's time to optimize your website and local digital properties with proper maid service SEO.
What is Maid Service SEO?
Maid Service SEO refers to the process of optimizing a cleaning business's online presence to rank higher in search engine results for relevant keywords. This targeted approach helps attract more potential customers seeking house cleaning services. Some common questions about Maid Service SEO include:
Q: What does Maid Service SEO do for my cleaning business?
A: Maid Service SEO helps increase your website's visibility in search engines, leading to more traffic, leads, and ultimately, customers.
Q: How does Maid Service SEO improve my online presence?
A: By targeting specific keywords and optimizing your website, Google My Business profile, and other digital properties, Maid Service SEO makes it easier for potential customers to find your cleaning business online.
Why Choose Us?
Experience: Mike (CEO of Contractor 20/20) has been providing tailored marketing solutions for home service clients since 1996. With decades of experience in the industry, Mike and his team have the knowledge and expertise to deliver outstanding results for your maid services business. By choosing Contractor 20/20, you'll benefit from a team with a proven track record of driving success for clients just like you.
Dedicated to Results and Passionate: At Contractor 20/20, we are committed to achieving exceptional results for our maid services clients. Our passion for helping businesses grow is evident in every aspect of our work. We understand that your success is our success, and we won't rest until you see significant improvements in your search engine rankings and online visibility.
Transparent: Transparency is at the core of our values at Contractor 20/20. We believe in keeping our clients informed every step of the way. From regular progress updates to detailed reports, we ensure you have a clear understanding of the strategies we implement and the results they deliver. We take pride in maintaining open and honest communication with our clients, so you can trust that you're always in the loop.
Family Owned: As a family-owned business, Contractor 20/20 understands the unique challenges and needs of small and medium-sized businesses in the maid services. We are dedicated to providing personalized, hands-on support that larger agencies simply cannot match. Our clients are like family, and we treat your business with the same care and attention we would give to our own.
Not Just SEO: Contractor 20/20 goes beyond traditional SEO services to offer a complete marketing solution for maid services clients. In addition to search engine optimization, we provide a range of marketing services, including direct mail, social media management, and more. By choosing Contractor 20/20, you'll gain access to a one-stop-shop for all your marketing needs, streamlining the process and maximizing your return on investment.
We offer Free Stunning Websites for Our Clients To Start SEO
We understand that developing a website can be a significant investment, especially for new businesses. That's why we offer a free website to all our clients who sign up with us for SEO. This removes a significant barrier for cleaning business owners and helps kick-start your online presence.
Unlike other companies that offer free websites, with Contractor 20/20, you maintain full control over your site. If you ever decide to cancel our services, you can take your website with you and host it elsewhere. We don't use proprietary systems that lock you in, ensuring you never feel trapped with an ineffective SEO provider.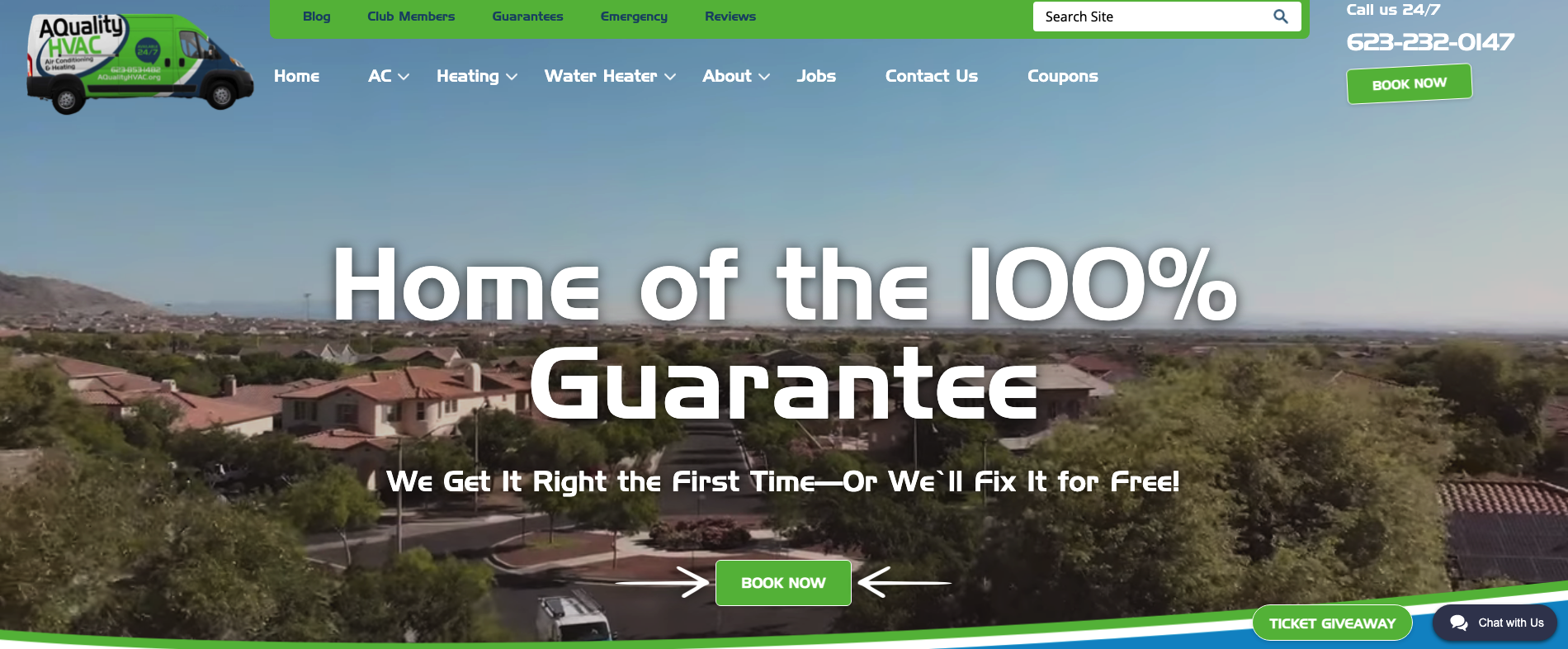 Local Search Ranking Factors of 2023 Which Applies for Your Maid Service Business As well
The three main local search ranking factors are proximity, prominence, and relevance. These factors are distributed across various aspects of your business. The 2023 Maid Service local search ranking signals are as follows:
2023 Electrical Industry Local Search Ranking Signals:
Local Pack/Maps Ranking Factors:
These factors affect your ranking in the Local Pack on Google SERP and Google Maps.
Google Business Profile: 32%
On-page SEO: 19%
Online Reviews: 16%
Backlink: 11%
Behavioral: 8%
Citation: 7%
Personalization: 6%
Organic Local Ranking Factors:
These factors affect your ranking in Google for local queries (excluding local pack/maps).
On-page SEO: 36%
Backlink: 26%
Behavioral: 9%
Google Business Profile: 9%
Personalization: 7%
Citation: 7%
Reviews: 6%
Here is the Detailed Guide to Maid Service SEO
Now that you know the local search ranking factors, let's dive into the guide to Maid Service SEO.
1st Step – Website + Digital Presence Audit: Begin by assessing the current SEO status of your maid service website, Google Business Profile, and the consistency of your NAP (Name, Address, Phone) information across online citations. Conduct a comprehensive audit to identify areas of improvement, including on-page SEO, technical issues, content quality, backlinks, and overall user experience.
2nd Step – Google Business Profile Optimization: Optimize your Google Business Profile by ensuring that your NAP information is accurate and consistent. Add relevant services, create informative GMB/GBP posts, and write a compelling business description. Regularly update your profile to reflect changes in your business and engage with customers by responding to reviews and questions.
3rd Step – Keyword Research: Conduct thorough keyword research to identify the most relevant and high-traffic keywords for the maid service industry. Here are 30+ keywords to consider:
maid service
house cleaning
residential cleaning
deep cleaning
move in/out cleaning
eco-friendly cleaning
home cleaning services
apartment cleaning
cleaning services near me
professional cleaning services
office cleaning
commercial cleaning
carpet cleaning
window cleaning
post-construction cleaning
one-time cleaning
weekly cleaning
biweekly cleaning
monthly cleaning
affordable cleaning services
best cleaning services
housekeeping services
spring cleaning
cleaning company
green cleaning services
local cleaning services
reliable cleaning services
trusted cleaning services
cleaning quote
cleaning service prices
house cleaning checklist
Plan and implement these keywords throughout your website's content to improve search visibility.
4th Step – Develop the Website: Design a mobile-friendly, visually appealing, and fast-loading website that offers a user-friendly experience. Focus on creating a conversion-optimized site that encourages visitors to book your maid services.
5th Step – Content Optimization/Marketing: Add high-quality, informative content to your website that provides value to your target audience. Engage in content marketing by sharing helpful tips, industry insights, and promoting your services through blog posts, articles, and social media.
6th Step – Technical SEO/On-page SEO: Optimize your website's technical elements, including title tags, meta descriptions, H1 headings, schema markup, crawlability, and accessibility. Remember to consider the ranking signals these optimizations contribute to local pack/maps and local search results.
7th Step – Start the Review Generation: Encourage customers to leave reviews on your Google Business Profile and other relevant platforms. Positive reviews contribute to local search rankings and help build trust with potential clients.
8th Step – Digital Presence Management AKA Citations: Build citations on relevant directories such as Bing Places, Yelp, and Yellowpages to improve your online presence and strengthen your NAP consistency.
9th Step – Start Backlink Building: Acquire high-quality, relevant backlinks to increase your website's authority and improve its local search rankings. Remember to consider the percentage of ranking signal backlinks contribute to local pack/maps and local search results.
10th Step – Tracking & Reporting: Monitor the progress of your maid service SEO campaign through tracking tools and regular reporting. Measure your success based on key performance indicators like organic traffic, rankings, and conversions to ensure your SEO efforts are delivering results.
Remember that some of these steps, such as content marketing, backlink building, content optimization, and review generation, are ongoing processes. Following this comprehensive guide will help you create and maintain a successful maid service SEO campaign.
Cities We Serve (We Serve the Entire Country)
Detroit, MI
El Paso, TX
Memphis, TN
Baltimore, MD
Boston, MA
Seattle, WA
Washington, DC
Denver, CO
Milwaukee, WI
Portland, OR
Las Vegas, NV
Oklahoma City, OK
Albuquerque, NM
Nashville, TN
Tucson, AZ
Fresno, CA
Sacramento, CA
Long Beach, CA
Kansas City, MO
Mesa, AZ
Virginia Beach, VA
Atlanta, GA
Colorado Springs, CO
Omaha, NE
Raleigh, NC
Miami, FL
Cleveland, OH
Tulsa, OK
Oakland, CA
Minneapolis, MN
Wichita, KS
Honolulu, HI
Arlington, TX
Bakersfield, CA
New Orleans, LA
Anaheim, CA
Tampa, FL
Aurora, CO
Santa Ana, CA
Saint Louis, MO
Pittsburgh, PA
Corpus Christi, TX
Riverside, CA
Cincinnati, OH
Lexington, KY
Anchorage, AK
Stockton, CA
Toledo, OH
Saint Paul, MN
Newark, NJ
Greensboro, NC
Buffalo, NY
Plano, TX
Lincoln, NE
Henderson, NV
Fort Wayne, IN
Jersey City, NJ
Saint Petersburg, FL
Chula Vista, CA
Louisville, KY
Norfolk, VA
Orlando, FL
Chandler, AZ
Laredo, TX
Madison, WI
Winston-Salem, NC
Lubbock, TX
Baton Rouge, LA
Durham, NC
Garland, TX
Glendale, AZ
Lexington, KY
Reno, NV
Hialeah, FL
Paradise, NV
Chesapeake, VA
Scottsdale, AZ
North Las Vegas, NV
Irving, TX
Fremont, CA
Birmingham, AL
Rochester, NY
Want to Get a Free SEO Audit Done by Real SEO Professionals? Let's Talk
Start by reviewing the current SEO health of your Maid Service business. After that, you can decide the best course of action. Contact Mike or Emily at (607) 770-8933.